We're always trying to make things that little bit better. So we've redesigned your statement to make it easier to read and understand.
What's changed...
All the important information is clearly presented
Your minimum payment, payment due date and available to spend all handily grouped together on the front
A new area of the statement dedicated to giving you messages about your account or other important updates
A separate page for charges and credits to your account so you can check at a glance what you've ordered, returned and paid in the last month
All the information you need, at your fingertips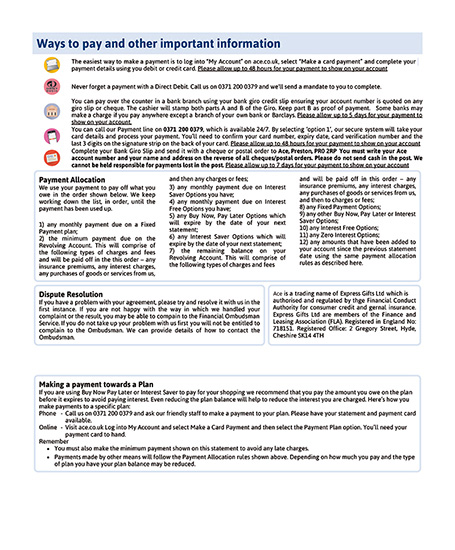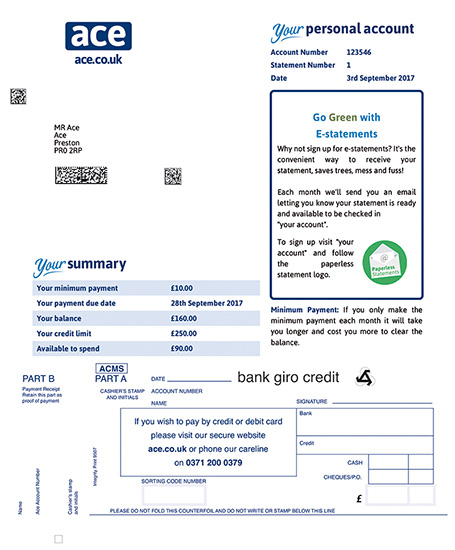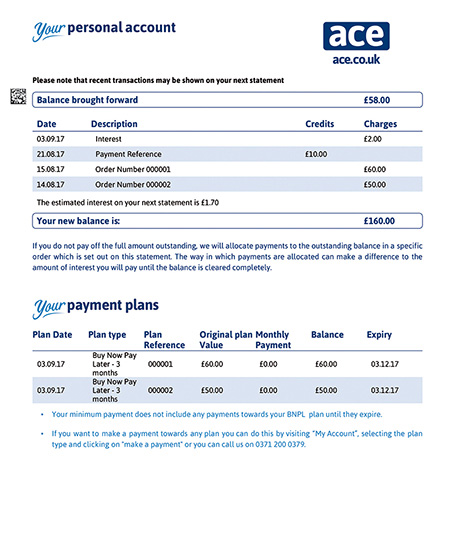 Account Number

Your account number is always shown here - you'll need this if you give us a call, write to us or want to log into your account online

Summary

Your 'summary' provides key information about your account including your balance, minimum payment and your payment due date.

Information Panel

We use this space to provide you with important information about your account including any changes to your credit limit, payment plans coming to an end or new ways to pay.

Bank Giro Credit Form

You can use this bank giro credit form when you want to pay over the counter in a bank, building society or at a post office
Date

This is the date of a credit, charge or in the case of an order its despatch date and for payments it is the day we received it.

Description

This is a short summary of the type of transaction

Credits

Credits include any items you have returned or payments we have received.

Charges

Charges include any orders placed, interest charges, account protection or any other fees.

Estimated Interest

We are required to give you an estimate of how much interest you might be charged on your next statement. The amount assumes you pay the minimum payment and you don't make any other purchases.

Your Payment Plans

This section gives you a summary of the payment plans you have - including BNPL and Interest Saver. You can see the original order value, how much you have left to pay and the date that the plan expires. The Monthly Payment shown is included in the Minimum payment show in Your Summary.